B.A. IN BUSINESS ADMINISTRATION ONLINE
Complete Your Undergraduate Journey

Whether transferring from another school or finishing a degree you started years ago, Morehouse Online provides the high-caliber learning and supportive brotherhood you need to transform from learner to leader. We offer our online Bachelor of Arts in Business Administration degree with a concentration in management to students who hold previous college credits.
A LIBERAL ARTS CURRICULUM GROUNDED IN LEADERSHIP
The online bachelor's in business administration curriculum consists of general education and concentration-specific courses, preparing you for leadership in life as well as complex corporate and entrepreneurial situations. As a student, you'll develop a strong business foundation, master creative problem-solving, lead innovation, and build ethical leadership skills.
A total of 120 credits are needed to graduate. The number of transfer credits you've earned may dictate how many and which courses you may take. Courses offered include:
Data Analytics and Modeling
Business Policy and Strategy
Entrepreneurship
Marketing Management
Upon graduation, you will be prepared for a variety of business career paths, including those in human resources, operations, entrepreneurship, marketing, or sales.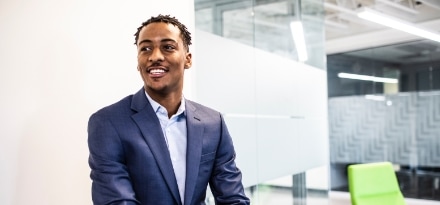 MORE ACCESS FOR MORE MEN
We offer tuition at an accessible rate to allow more talented men to become agile business leaders.
DEMAND MORE FROM AN ONLINE EDUCATION
Some are okay with the status quo. But not Morehouse. Like you, we're always seeking more—more excellence, more knowledge, more growth, more access. Our online program is no exception. We've built an online bachelor's experience unlike any other—one that connects you to a renowned HBCU community and empowers you to reach your greatest potential.
Discuss course topics and collaborate with classmates, faculty, and mentors in live online classes.
Engage with the curriculum through video lectures, annotation tools, and question-and-answer boards.
Complete coursework at your own pace, and use our mobile app for on-the-go access.
ADMISSIONS REQUIREMENTS
We offer August, January, and May start dates for our online bachelor's degree program. You can complete your degree on a full- or part-time schedule. Applicants must provide proof of high school graduation and some previous college credit to be considered.
15+
Transfer Credits Required
2.75
Minimum Cumulative College GPA
READY TO MEET YOUR POTENTIAL?
MOREHOUSE SUPPORT STARTS NOW
We understand that returning to college or transferring to a new school is a big commitment. With Morehouse Online, you don't have to do it alone. As a Man of Morehouse, you will benefit from an expansive support network made up of:


Faculty who know you by name.
Like-minded and motivated classmates.
Admissions and student success specialists.
A personal academic advisor.
And you don't need to wait till you're a student to receive support. Our admissions advisors are here to guide you every step of the way and answer any questions you have. Whether you need assistance requesting transcripts or want to brainstorm personal statement ideas with someone, our team is here for you.
Contact an admissions advisor today at 855-609-1097 or email an admissions advisor at admissions@online.morehouse.edu.
TAKE THE NEXT STEP
Learn more and connect with our community now by completing the brief form above.