EARN YOUR COMPUTER SCIENCE DEGREE ONLINE FROM MOREHOUSE COLLEGE
Complete Your Undergraduate Journey
*Pending approval by the Morehouse College Faculty and Board of Trustees
The online Bachelor of Science in Computer Science at Morehouse will equip you with a fundamental understanding of digital problem-solving and its many applications. This program will prepare you for graduate studies or entry into the workforce as a computer science professional at the highest level possible.
You'll receive a 360-degree introduction to the high-growth computer science field, gaining the knowledge and skills needed to become an in-demand professional.1 Through Morehouse Online, you'll not only learn the technical components of computer science, you'll also develop an interdisciplinary perspective that will prepare you to be a thoughtful leader and decision-maker—hallmarks of Morehouse Men for over 150 years.
Apply to Morehouse's Online Bachelor's Degree in Computer Science
PREVIOUS COLLEGE CREDIT REQUIRED
AUGUST, JANUARY, AND MAY START DATES
FULL- OR PART-TIME STUDY OPTIONS
As a student of the online bachelor's in computer science at Morehouse, you will learn to analyze, design, engineer, and implement systems to solve technological challenges involving data structures, algorithms, and operating systems.
Complete your undergraduate journey by starting your application for the online bachelor's degree in computer science today.
Application Requirements
To apply to a Morehouse Online bachelor's degree program, you must provide proof of high school graduation, have completed some college credits at an accredited institution, and submit the following:
Online application
Application fee (waivers available)
Proof of High School Graduation
Official transcripts
Personal statement
Letters of recommendation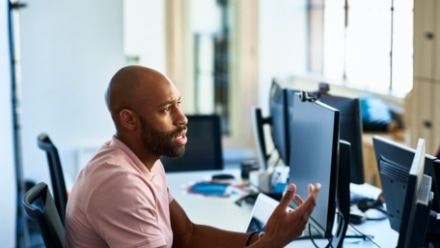 Tuition and Financial Aid
Our online computer science degree program is offered at an accessible tuition rate to make the distinctive Morehouse education available to more men, in more places—and to help them to flourish in a high-demand field.1
Bachelor's in Computer Science Online Curriculum
Based on our rigorous on-campus computer science curriculum, the online program prepares you for graduate studies in the field or entry into the workforce in areas such as computer systems, programming languages, software engineering, artificial intelligence, and databases.
120 TOTAL CREDITS NEEDED TO GRADUATE
AT LEAST 26 TRANSFER CREDITS PREFERRED
Learn Computer Science with a Liberal Arts Perspective
You will learn computer science fundamentals through our hallmark liberal arts lens, allowing for a more holistic understanding of how computer science intersects with other disciplines and industries.
This program has mathematics prerequisites. Based on the number and type of transfer credits you've earned, you may need to complete some mathematics and/or general education courses.
Online Computer Science Courses
In addition to meeting general education core requirements, your studies will consist of up to 65 hours of computer science, math, and science courses. Subjects may include:
Computer programming
Software engineering
Discrete structures
Operating systems
Organization of programming languages
Data structures and algorithm analysis
Calculus
Probability and statistics
Set theory
General biology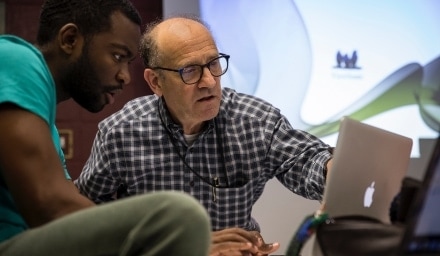 Designed and Led by Expert Faculty-Mentors
You will learn from experts in the field, who will be available to you through intimate online classes and one-on-one office hours, as well as for personal and professional guidance during and after the program.
Online Computer Science Degree Career Paths
When you earn your bachelor's in computer science online from Morehouse, you will be ready to apply your skills across a diverse array of industries, such as finance, cybersecurity, software engineering, marketing, management consultancies, higher education, government agencies, and healthcare.
You'll be more than just a leader in computer science. You'll be a Morehouse Man. Take the next step by completing the form below.
1U.S. Bureau of Labor Statistics. (September 1, 2020). Computer and Information Technology Occupations: Occupational Outlook Handbook. Accessed March 25, 2021 from https://www.bls.gov/ooh/computer-and-information-technology/home.htmarrow_upwardReturn to footnote reference